Pastor Antonio Gandy was born and raised in Pleasantville, NJ. At the age of 17, he became the Minister of Music at Price Memorial A.M.E Zion Church in Atlantic City, NJ. Shortly after, he became the Youth Director of Music for Mt. Zion Baptist Church in Pleasantville, NJ. Antonio has had the opportunity to play for many recording artist and churches around South Jersey.
In 2001, Pastor Gandy began his singing ministry called "Antonio Gandy and Fulfilled Prophecy". He released two albums, "For God I'll Live, For God I'll Die", and "Can't Sit Down on God".
In 2007, he was licensed as a Minister of the Gospel. He was ordained and installed as the Pastor and Founder of Center of Deliverance and Empowerment Church in 2009.
Pastor Gandy became the Pastor of Trinity Church AC in 2015. As an effective communicator of God's Word, he is known for his practical and dynamic preaching and teaching style. As he breaks down the Word, it is easy to apply truths of scripture to your everyday life that can assist you to grow spiritually and reach your destiny.
In addition, Pastor Gandy serves as a member and Chaplain of the Fellowship of Churches organization in Atlantic City. He is actively pursuing his degree in Christian Studies at Grand Canyon University.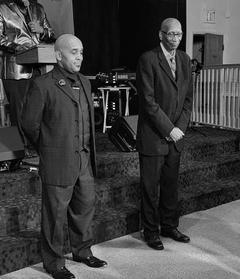 Jessie Wright & Ed Jernigan
Assistant Children's Director
Women's Ministry Coordinator